---
STEP II

Schedule Interview
Our Team will contact you for an interview and they will confirm the interview date.
STEP III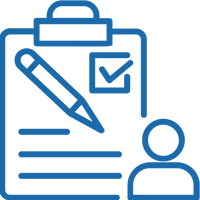 Schedule Test
After the interview, your child will be qualified by a test
Admission Procedure
All the students will be subjected to the fitness test by the Principal. The final decision solely depends on the Principal, and she has the right to accept or reject the application without providing any reasons.
Parents are requested to get the prescribed registration form from the reception desk during working hours. Here are the essential documents that need to be attached with the application form
Health Card (can be received from an approved school health clinic)
Below are the necessary documents needed to get the Health Card

Passport copy of the child and his/her father

C.I.D Copy of the child and his/her father

Original and copy of Birth Certificate

2 Photos (required for Health Card)

Admission form filled in English

Admission form filled in Arabic

Passport copy of the candidate

Passport copy of the Parent

Original Transfer Certificate from the previous school attended (from Class II and above)

Two photocopies of the T. C and Report Card from the last school attended should be submitted at the admission time.

Two copies of Birth Certificate (birth certificate should be inclusive of Inoculation Pages for the candidates born in Kuwait)

Four recent passport size photographs of the candidate (submit in an individual envelope)
Note: Admission will be given to the candidates who have passed the aptitude test and submitted the essential documents to meet the standard equivalent. Candidates will be strictly selected based on the merit list. Applications will be rejected for those who failed to pay the fees within the given period.
School Timings
The academic year begins in April and ends in March, with a break for summer vacation from June to August.
School timings in Summer as well as in Winter are
Sunday to Thursday
7:15 a.m. - 1:20 p.m
For the holy month of Ramadan, timings would probably be : 8:25 a.m. - 1:00 p.m
Friday and Saturday are weekly holidays.
Office Timings
Parents visiting hrs
08:00 a.m. - 10:00 a.m
12:00 noon - 1:00 p.m
Also by appointment besides these hours
No school business will be transacted on holidays.
School Office
07: 00 a.m. - 3 : 00p.m. - Sunday to Wednesday
07: 00 a.m. - 1 : 30 p.m. - Thursday
09:00 a.m. - 1:00 p.m. - Saturday
5.30 pm to 7.30 pm from the 1st to 10th of every moth except Thursdays & Saturdays