Indian Central School - started functioning on 31st August 1994, to impart quality education and excellence in producing all-round students. We initially started for students up to Class VIII to which Class IX was added in April 1995. First Batch of Class X appeared for the Board Examination in March 1997 and came out in flying colors with 100% results. Out of which 99.4% of students were placed in the first class. From the second batch of March 1998 onwards, the tradition of keeping up with 100% results is maintained by the ongoing batches. The first batch of Senior Secondary (Class XII) appeared for Board Examination in March 1999 in two streams - Science and Commerce. Their results were also adding feathers to our crown of success.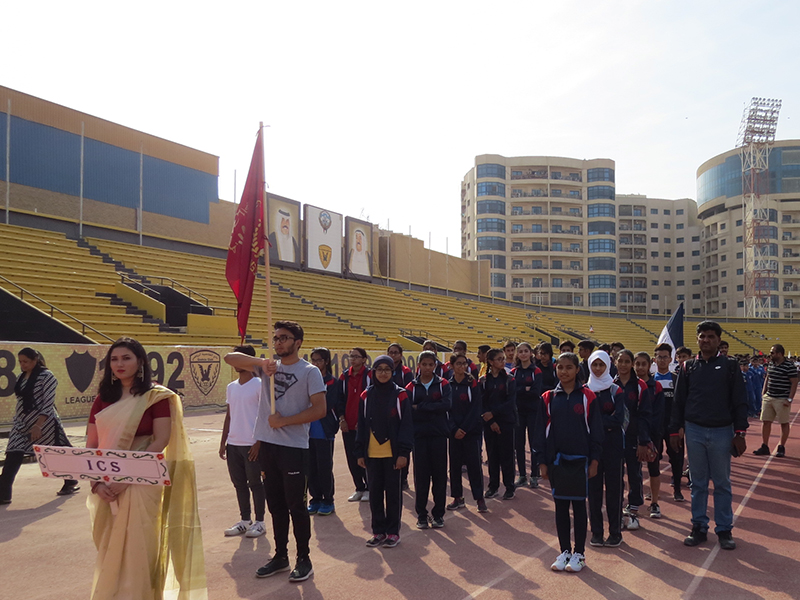 For fulfilling set objectives, the existing characteristics of the school which are prelude to success are conductive environment - a vast area with big and spacious air-conditioned rooms, three big playfields which are a rare asset to this school, basketball and badminton courts, a number of Gardens and green areas, a well maintained auditorium, a big gymnasium with all facilities, a well equipped library stacked with a lot of selected books and video cassettes covering the school subjects, resource centers for English and Mathematics, and recreational material, an aesthetically done up playroom for the Tiny Tots, an open area with plenty of swings for the young ones, a well thought over audiovisual room with all the equipment and apparatus room and resource center with all sorts of aids and implements, four Science labs with the latest facilities, Computer Science labs especially designed to facilitate young students working on them, spick and span toilets, hygienic canteen and two-bed Clinic and above all, the teaching faculty adorned with trained, highly qualified and carefully selected teachers.
Indian Central School is owned & under the leadership by the Dar Al-Salam Educational Services.
The building of an educational institution is often an act of faith and the expression, of that faith, is a philosophy based on which those who build such institutions act.
1994
Indian Central School came into existence on 1st September 1994 with 200 students on its roll. Later with its comprehensive scheme of teaching, adopting the latest methodology facilitated the fast growth of the institution.
1995
Indian Central School became a member of the council of CBSE Affiliated Schools in the Gulf in 1995 to keep pace with the latest developments in the field of education. The little lamp of knowledge has now become a glittering flame.
1996
In the year 1996, the school was affiliated to CBSE. It was upgraded in the following year.
1997
Indian Central School is sponsored by the Dar Al-Salam Educational Services. It is recognized by the Ministry of Education, Kuwait and follows the syllabus of the Central Board of Secondary Education, New Delhi.
1999
In March 1999, the first batch of Class XII appeared and produced excellent results in the Board Examination of CBSE.
2017
In 2017, the school stepped into its new building with all the modern facilities and ideal infrastructural settings. It has well-built airy buildings, a peaceful environment, an air-conditioned gymnasium, auditorium, two full-fledged health clinics equipped per Ministry regulation with the assistance of trained personnel. It has well-stacked Libraries for both primary wing and Senior wing, Computer Labs for the Junior and Senior Wings and aesthetically done science labs are rare assets of the school. Advanced Smart Classrooms, Administrative facilities, Indoor Gymnasium, Swimming pools, Indoor,Table Tennis & badminton Courts, Mini football court, Basketball Courts and Volleyball Court are many of the other elegant facilities provided by the school for the all-round development of the students.
Present

Indian Central School has excelled in Academic, Sports and Co-Curricular activities and has earned much fame and name. Children keep thriving under the guidance of a highly proficient and trained team of teachers both in academics and co-academics. The medium of instruction within the school is English and Hindi as compulsory languages till Std-VII. French is offered from Std-VI upwards. Our institution has become a trendsetter among other schools. Now the School has more than 5300 students on its roll with 265 staff both teaching and non-teaching.

We aim to provide an integrated scheme of education, giving equal thrust to the training of mind, body and spirit and thus seek to mould individuals worthy of taking up the challenges to the new century. It is not merely doing the task of discovering and nurturing the innate capacity of each child, but it works to develop in youth both the tough and tender sides of man. As Plato rightly commented, "Education shall be the gymnastics of the body and music of the mind".